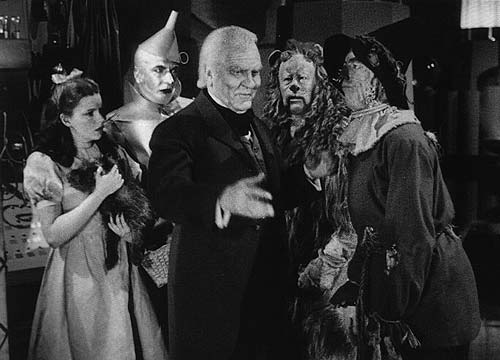 Here I was, innocently investigating the strangeness of my recent fascination with The Wizard of Oz, and I am taken captive by something completely different. For the last couple weeks I've had Wizard of Oz on my brain. It started with the last snowfall earlier this month. For no apparent reason I started whistling "If I Only Had a Brain" along with the snow pelting my eyes. The theme continued later until I talked to someone at church, giving them the nickname "Mega Oz", bringing a flood of Oz-type thoughts back to my brain (like big green heads shrouded in smoke, charming little old guy behind the curtain pulling levers, and hot air balloons). The topic of discussion came up again briefly last night at the Smith community group.
Finally, for several days I've had the song "Over the Rainbow" stuck in my head. I don't even know where it came from. I wasn't even thinking about Ozness for a couple days. This is weird. I'm thinking I need to watch the movie. I own it, so it wouldn't take much effort to throw in the disc and press play. However, what a shame that would be. Maybe we need to make a movie night out of it, so the experience isn't "wasted".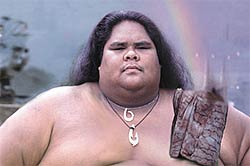 OK, I was reminded again of the rainbow song and decided to look it up on Youtube so I could listen to it. BIG MISTAKE! The first search result that popped up was a version sung by a man, Israel "Iz" Ka'ano'i Kamakawiwo'ole. I'm ashamed to say I didn't know who this singer was prior to having discovered this video. I listened to it once, and now I'm listening to it over and over again. Ah... good. Some of the videos on Youtube show Iz and his people in their natural Hawaiian element. By the way, now that the song is already stuck in your head, you may as well look it up on Youtube and get the full experience!
Oh man it makes me wish I had darker skin and was born elsewhere - where the palm trees grow. To experience simpler, finer, more relaxing and important things. To be free from the concrete jungle and never-ending drudgery. To be part of something so unique and great. Now I'm wishing I could go to Hawaii! Aaargh! I have felt the same about Brasil... I've been there four times now, and I feel the culture and people are a part of me (well, in reality, this is true). There's something unique and beautiful about these types of cultures, especially around the coastal cities. It's pure magic. Lately I've been thinking specifically about Fortaleza. I wish I could go there again. SOOOO many good memories in that city! (perhaps my cousin Mila can relate to some of these inner yearnings?)
Ummm... the sun's shining, it's Friday, and I'm listening to a big Hawaiian man with an addictive persona singing a great song. I'll have a hard time getting back to work after lunch :) Thanks, Iz. I wish I could have met you in this world. You seem like an interesting person. I'm sorry you had to leave your family behind. I pray for those - all those - who are close to death (we are all a breath away). May they find peace with the God who made them. The God who declared the rainbow as a sign of peace between Him and mankind. This peace ultimately comes through Jesus Christ. Know Him. He's waiting for you with open arms if you will listen to what the Father says of Him and believe what is said.
Over the Rainbow

Somewhere over the rainbow
Way up high,
There's a land that I heard of
Once in a lullaby.

Somewhere over the rainbow
Skies are blue,
And the dreams that you dare to dream
Really do come true.

Someday I'll wish upon a star
And wake up where the clouds are far
Behind me.
Where troubles melt like lemon drops
Away above the chimney tops
That's where you'll find me.

Somewhere over the rainbow
Bluebirds fly.
Birds fly over the rainbow.
Why then, oh why can't I?

If happy little bluebirds fly
Beyond the rainbow
Why, oh why can't I?