as waddle: adverb
Also. In addition. Origin relates to pronouncing "as well" in an Irish accent, so there is almost a "rolling R" or "D" sound. However, there is no trace of such an accent, but rather the described attribute, which becomes quite literally pronounced as the English word, "waddle".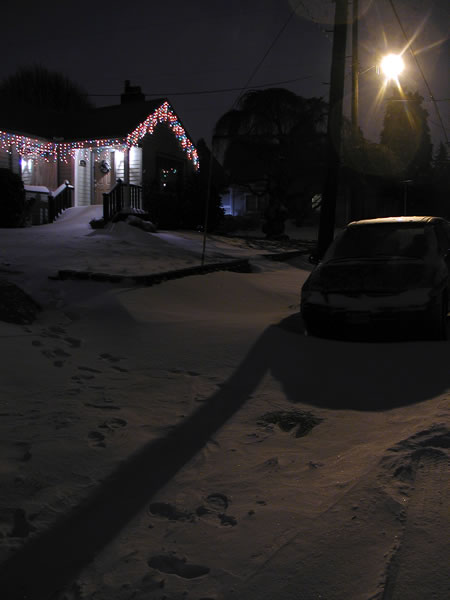 I've been spending the weekend with my good friend Dave and his family. Friday night Dave and I went over to Jibbidex Pribu's place (aka Mr. Pukis, Hannon, and a plethora of other mostly random names). We played video gabu and ate candy junk (Davenai, not Jim so much).
I decided to spend the night at Dave's house, since my weekends are otherwise boring and uneventful. I also considered the likely possibility that if I went "home" to Beaverton Friday night, I'd likely not see anyone for the rest of the weekend (ew, horrid thought these days). Even church will likely be canceled for the second week in a row... must... get... spiritual recharge... soon! (Captain Kirk style)
Today the snow blast finally came in. It's been snowing continually all day, albeit it tiny flakes and windy gusts. The accumulation might not be extremely deep as far as inches or feet, but the wind makes for some fairly impressive drifts.
Dave and I went out to lunch with his sister Toff, Shaun, and Allie. We went to Wei Wei, a local favorite restaurant of theirs. Albert, the owner, always comes over to their table and talks with them for a considerable time because they are such regulars. Great food. Yummy to my tubby tummy arterummy (huh?).
I'll probably end up spending the night again here at the Ruecks'. Otherwise, I might see if someone might venture me over to my parents' house a bit later... but it's of little difference to me at this point in time. Don't really want anyone to endanger themselves on my account, so I'll probably just stay put. I just like to be in proximity with people of virtually any manner - well, people that I know and love is generally a good condition, but yeah.
OK, scratch that. Ken, Dave's dad, took me over to my parents' house. Dave came along for the ride as waddle . The three of us, my parents and Grandma visited for a while. We ate popcorn and yummy cookies and drank hot chocolate (with marshmallows and candy cane mixed in - yum!).
Yet another slew of pictures of Arctic Blast 2008 (aka Deep Freeze) on Esoshow.
I'd say the storm is finally worthy of such silly monikers. While our snow accumulation or temperature lows might not compare to other parts of the country, this latest wintry onslaught is indeed impressive for us.