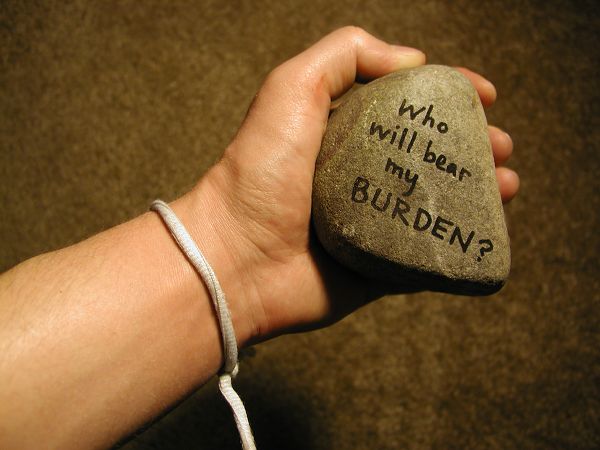 In one of the villages, Jesus met a man with an advanced case of leprosy. When the man saw Jesus, he bowed with his face to the ground, begging to be healed. "Lord," he said, "if you are willing, you can heal me and make me clean." Jesus reached out and touched him. "I am willing," he said. "Be healed!" And instantly the leprosy disappeared.

Luke 5:12-13 NLT
Last Friday I met Tiffany at Oregon Decorative Rock during my lunch break. The two of us represented our SW Hills Community Group in looking for some rocks to use with our Stations of the Cross project. We committed to taking on three stations, one of which will involve writing on rocks. More specifically, those who visit the Stations of the Cross will be encouraged to write something on their rock that has been troubling them, a burden.
As Tiffany and I were talking with Jim, the friendly store manager at Oregon Decorative Rock, Tiffany said something "funny". She said, "Well, maybe we could return them when we are done." Not knowing if she was joking or not, I instantly recanted it by saying, "Nah, I'm sure we can use them again and again." Of course the reason I said that was twofold. First, it would be kind of rude to "burden" the business with a return, especially considering the relatively low purchase price. Second, we are going to be writing on the rocks, so they will not be in a returnable condition.
I revisited this conversation in my mind later that day, and something profound and powerful occurred to me about the symbolism of our rocks. I asked myself the question, "Who would want a bunch of rocks with stuff written on them?" Being that the primary use of the rocks is for landscaping and decorative purposes, I pictured a yard ornamented with our rocks and all their words. Can you imagine?
If people are honest when they encounter this station, they will write the burdens that plague them most. Some might write of broken relationships, addictions, guilt, stress, lost loved ones, financial trouble, and so on. Imagine now a beautiful garden with a bank of rocks partially embedded in a small mound of soil. Each rock has a burden written on it, some words too shameful or painful to look upon for more than a few seconds, much less consider deeply and sense the "weight" that word must represent for the person who wrote it.
This is a type of rock garden that probably no one would choose to construct. If they did, it would be a pious gesture, the yard would be ugly, and the problems written on the rocks would remain unsolved and unaided. Any sensible person would prefer clean rocks with nothing written on them for landscaping. Who wants a bunch of used, tainted rocks that represent a bunch of bad feelings and painful situations?
Something wonderful occurred to me as I considered that question. The beautiful answer struck me: Jesus is willing to take those ugly, written on rocks. If anyone has a garden and is willing to use such rocks to decorate, it is Jesus the Son of God. Each of the rocks we hand-picked is anywhere from 1 to 2 pounds each. Not so bad to carry one's own burden. Our pile of 300 something rocks weighed in around 500 pounds! Not so easy to carry. Imagine the weight of the burdens of a whole world full of people! Who would make that their lot?
For while we were still weak, at the right time Christ died for the ungodly. For one will scarcely die for a righteous person - though perhaps for a good person one would dare even to die - but God shows his love for us in that while we were still sinners, Christ died for us. Since, therefore, we have now been justified by his blood, much more shall we be saved by him from the wrath of God. For if while we were enemies we were reconciled to God by the death of his Son, much more, now that we are reconciled, shall we be saved by his life. More than that, we also rejoice in God through our Lord Jesus Christ, through whom we have now received reconciliation.

Romans 5:6-11 (NIV)
Even if someone was so kind in their heart and wanted to help by bearing a burden, NO ordinary human could bear up under such a heavy load. It would instantly crush their body as well as their spirit. But Jesus who came in the flesh is also God! He alone is able. Thank You, Lord! Thank You for doing what we could never do. We were SO lost and without hope. You are for us a Living Hope. Just as the stone was rolled away from Your tomb, we too can be aided with our burdens! In this world we have trouble... but You have overcome the world. Anything born of Your Father also overcomes. We are reborn, and our faith also overcomes the world! Wow!
And when I think, that God, His Son not sparing;
Sent Him to die, I scarce can take it in;
That on the Cross, my burden gladly bearing,
He bled and died to take away my sin.

Then sings my soul, My Saviour God, to Thee,
How great Thou art, How great Thou art.
Then sings my soul, My Saviour God, to Thee,
How great Thou art, How great Thou art!
Therefore, since we are surrounded by such a great cloud of witnesses, let us throw off everything that hinders and the sin that so easily entangles, and let us run with perseverance the race marked out for us. Let us fix our eyes on Jesus, the author and perfecter of our faith, who for the joy set before him endured the cross, scorning its shame, and sat down at the right hand of the throne of God. Consider him who endured such opposition from sinful men, so that you will not grow weary and lose heart.

Hebrews 12:1-3

Carry each other's burdens, and in this way you will fulfill the law of Christ.

Galatians 6:2