I woke up late this morning and scurried to get ready to leave for work. Fortunately I live about 1/2 mile away, and I usually ride my bike. This morning it was FREEZING! Literally, I think it was. My hands and ears were about to fall off by the time I got to work. There was also thick fog everywhere. Luckily all that burned off, and my ride home for lunch was magnificently pleasant, hardly a cloud in the sky. From the weather this afternoon, you wouldn't think it's Fall - especially in contrast to the mostly rainy days we've had so far. Our late Summer and transition to Fall weren't the finest this time around. The Fall colors seem extra vivid this year, but I think they are always a surprise that way.
Click here for more Fall pictures like this one on EsoShow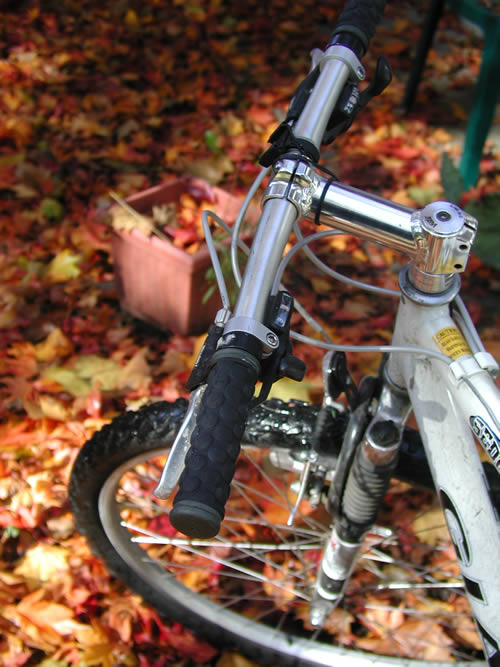 Dave and I went again to New Seasons for lunch today. I'm glad Dave introduced me to their food service area because I just thought New Seasons was a trendy, WAY-overpriced grocery store. It turns out they have magnificent vittles. There is a lengthy vegetable bar where you can create your own Hot Wok (similar to Mongolian Grill/Barbecue restaurants) or salad. The grandiose vegetable selection makes for very tasty plates.
Today the lady filled out my little order form and asked for a name. I said "Phil". After several tries at making myself more clear, she ended up writing on the sheet "Phio". I tried to correct her by saying, "Phil, with an L". She got the L in there, but not exactly where it should be. I gave up, amused that they would be calling out "Flow", or the more trendy PhLO.
Artweaver is one of the best natural media bitmap applications out there, well certainly for the price (FREE!). The tools don't produce effects perhaps quite as realistic and organic as say Art Rage, but the results are stunning if you know how to make the tools work for you.
I was just noticing that Artweaver is an amazingly functional bitmap creation and editing tool. Though it is chiefly known for its fancy brush tool's ridiculous number of customizations, it has almost all the mainstay features that programs along the line of Adobe Photoshop have. It has layers, filters, masks, and so on. Today I realized that it has enough of these general tools to make it a totally feasible option for anyone on a budget. Most people think of the GIMP when suggesting a free bitmap editor. I personally can't stand the GIMP, primarily for its horrid interface (ew, yuck, gross!). Artweaver should be mentioned alongside the GIMP for free solutions for bitmap editing. The only thing Artweaver lacks that I like to have is vector paths. Otherwise it has all the necessities.
For the record, Artweaver's painting tools put all mainstream programs to absolute shame, including Adobe Photoshop. The presets and controls are almost too much. If you play around with different settings, I have no doubt anything is possible. My problem is finding a reason to use them. About all I can do is fiddle and doodle, since I can't really think of anything purposeful to draw. This drawing is one of those mindless doodles, getting lost in space and time while experimenting with the endless tools.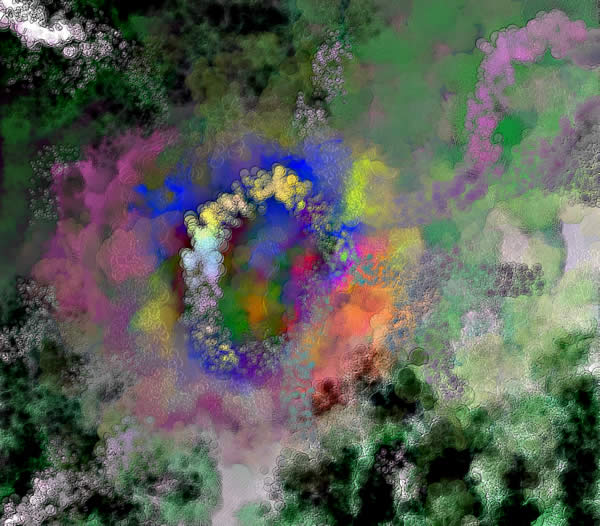 Dave and I got together on Saturday at Ava Roasteria for the second time. It's a pretty nice, relatively new and mega popular coffee shop in downtown Beaverton. Ava is currently staying open 24 hours, and offers free wireless internet. KC Craine and his friend Dawn Baker were there playing and singing as we arrived. Both are very talented, playing guitar, mandolin and harmonica. I was very impressed with KC's guitar playing. It was beautiful. It is that kind of playing that reminds me of how much a beginner I am. I'm still working on learning basic chords and strumming. Amazing what can be done when you know what you are doing! Witnessing such a spectacle either gets you excited and wanting to learn/improve or makes you say "Ah, I give up cuz I'll never be that good!". I guess I'm somewhere in the middle. I want to learn more, but I'm pretty sure I'm not capable of being that good, and I lack the motivation and discipline to set it as a high priority among so many others. Most of the time I play the same 2 or 3 songs a million times, utilizing about 10 chords (though I know about 25-30). I definitely want to learn the notes, scales and theory so I can do more than just memorize a few chords and play basic songs.