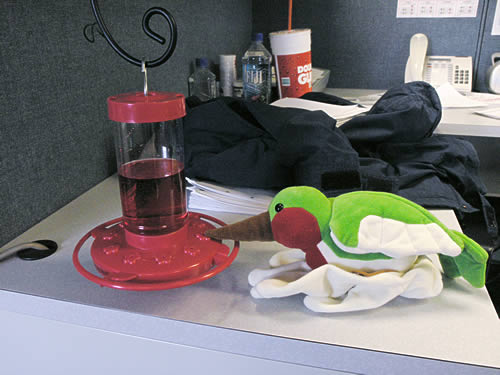 One of my coworkers brought in a hummingbird feeder a couple days go. It has been sitting on a file cabinet, waiting for someone to install it in the tree branches outside our second story windows. I noticed today that the feeder had been filled with hummingbird attracting liquid/potion/elixir/potion/fluid/formula. To the amazement and amusement of everyone in our department, a rare species of hummingbird almost immediately found its way into our office and started feeding on the juice. She got so chubby from overeating that she was forced to alight on a soft nearby glove. Now that's not something you see every day!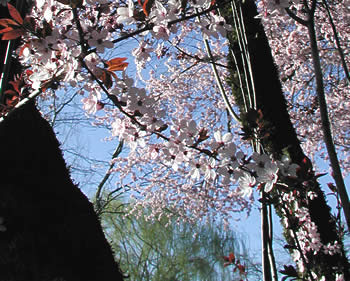 Spring officially starts March 20th, but things have been budding here in Beaverton almost a week prior. I'd say the timing is fairly accurate though. Friday and Saturday were rather spring-like, about 10 degrees above seasonal averages. For perhaps the first time this year I felt hot while walking home from work. I had to take my jacket off.
Friday evening, I took a few shots of some blooming trees in our neighborhood. They can be viewed on EsoShow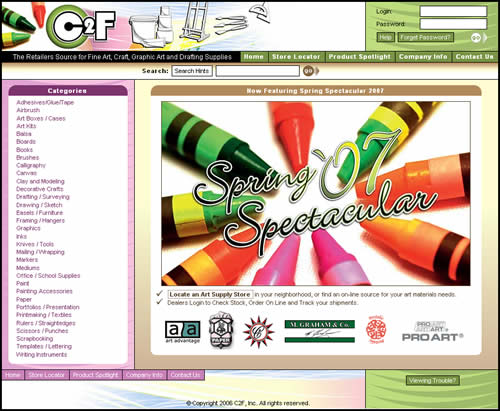 My regular tradition has been to give a few days' advance sneak preview of each theme I make for the C2F web site. This time I was a little lazy though, so here's what it looks like after the fact - not too bad, since I just updated it today. It is yet another graphical theme based on our seasonal promotion material designed by our art department.
Creating the color schemes and graphics and applying them is one the favorite little aspects of my job. This time around I made a few very minor changes to way the CSS is implemented. In a somewhat hasty rush from past seasons, I had some inefficiencies in my styles - stuff that was unnecessarily duplicated. I did some maintenance to the styles to allow for an even faster theme switch next time (just a couple months away already!).
See a basic representation of the new theme here
Previous Posts About C2F Themes: