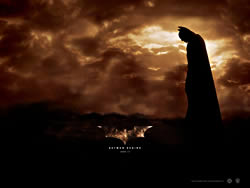 I'm a little late with this report, but I felt it was one not to be missed. Am I still a dedicated Batman fan? Not really. I still claim Batman as my favorite superhero, and many of his qualities intrigue me. Yet I am not fanatical as I was in my youth. I don't get fanatical about much of anything anymore. Nevertheless, there is still much child to be found in me, and I very much enjoyed this newest installment to the Batman movie lineup.
It is no longer common for me to make an effort to see a movie on opening night. My best friends frequent the theaters, often going to midnight showings of their favorite and most anticipated movies. I still enjoy the whole unique atmosphere and excitement of opening night, but the skyrocketing ticket prices keep me away from the theater more often than not. In this case, however, I made an exception and joined my friends for the first available showing of Batman Begins.



Over criticizing and pulling apart movies is not my fort?. I tend to be attracted to movies with a decent story and plenty of visually stimulating camera angles and effects. Though I am a former avid Batman fan, I don't see any reason to pick apart Batman Begins, looking for slight discrepancies. The way I see it, Batman as a primitive idea is more a large cloud of possibilities. If one were to read every comic book and every other official publication where Batman appears (and DC Comics accepts the label "Batman" to display), you will surely find contradiction and imperfection in story and concept. The idea that fiction can be made perfect is ridiculous. Batman is a great story and a great character. It would be difficult to disassemble such a great ideal, that is unless your name is Joel Schumacher.
Most fans would agree that Batman Forever and Batman & Robin were two jokes not worth laughing at and horrible portrayals of the legendary Batman character. I can't say enough to back that line of thought. Batman Begins, on the other hand, was a giant leap in the right direction for me. I was overly satisfied with the lengthy origin and history segment. It is absolutely necessary to show Bruce Wayne's passion and the steps he went through to obtain nearly superhuman skills. I am a great fan of martial arts and was particularly pleased that some attention was given to his early training and study abroad.
It has been a long time since I was passionate enough to memorize Batman trivia, so I was not able to determine how all the details of the movie compared to other, perhaps more official sources. I found the movie much more enjoyable this way, as I didn't have to worry about minute factoids. Batman Begins was a brilliant visual display, pleasing to the introspective mind as well. I do still remember some names and facts from the comics and was pleased to be able to pick them out as they were laid out on screen. All in all I would give the movie a very good review and would recommend it to all who have at any time been intrigued with Batman. If you are a long-time fan, let Batman Begins fulfill some of your dreams. If you don't even know who Batman is (Batcave forbid), enjoy an all around great movie!